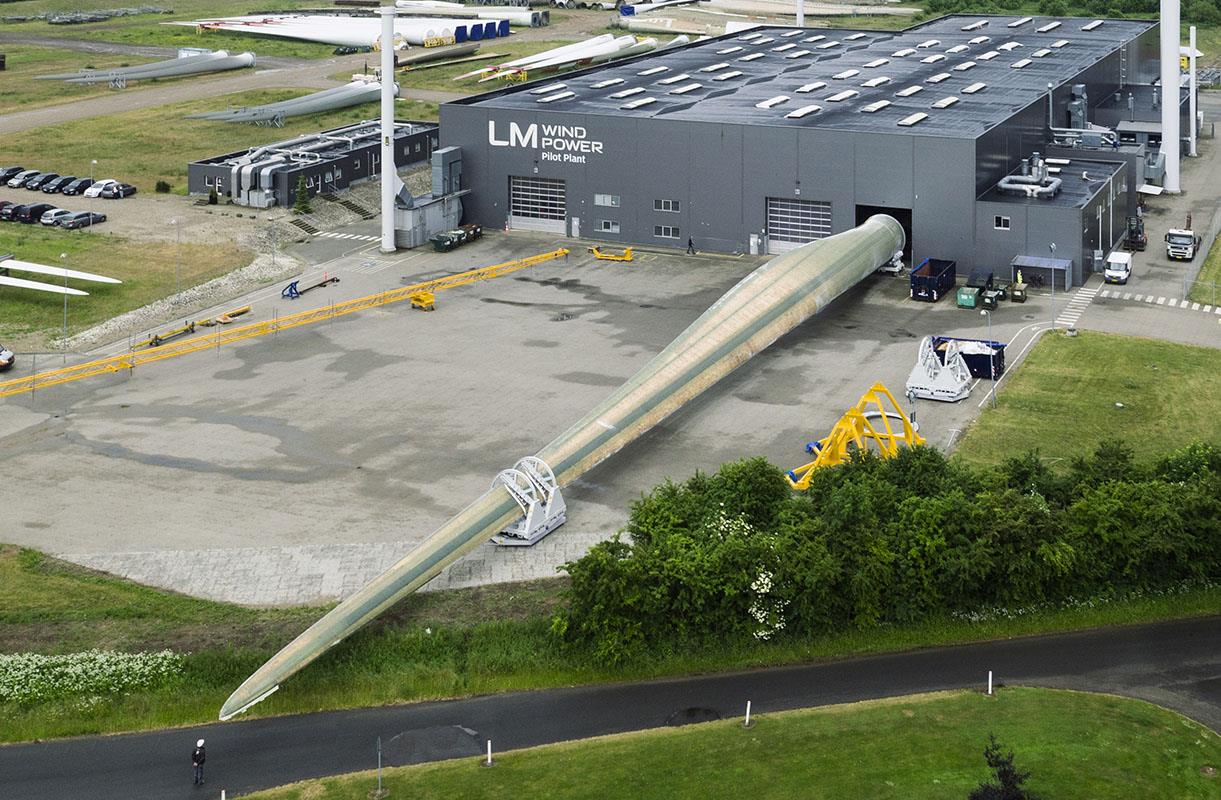 Learning from a record-breaker
How big is 88.4 meters?
The London Eye looks small next to this massive rotor. In fact, the swept area of a wind turbine with the LM 88.4 P is large enough to cover 3 soccer fields, or the entire Colosseum!
We introduced the LM 88.4 p in 2016 as the longest, most advanced, wind turbine blade in the world. Today, blades are growing in size at a rapid pace, including our largest blade to date, the LM 107.0 p, which builds on our experience and knowledge gained from past record-breakers. Explore what we learned from the designing, manufacturing, transportation and testing of the LM 88.4 p in 2016, to manufacture the next generation of ultra-long wind turbine blades.
When it was unveiled in 2016, the LM 88.4 P dwarved all its predecessors. There was no other blade like it.

Powering an 8 megawatt wind turbine – this rotor was the 'motor' for one of the largest mechanical structures on earth at that time. It was designed and manufactured with sufficient quality and reliability to withstand 25 years of life offshore, in the harshest weather conditions and roughest seas.

One set, of three blades, was capable of powering around 10,000 homes – that's a whole town – lit up by a single wind turbine. Ten will power a city.

Ultra-long wind turbine blades are a product of game-changing talent, teamwork and technology. Alongside our suppliers and customers, LM Wind Power is living our vision – Together, we capture the wind to power a cleaner world.

Read more about our longest blade today, the LM 107.0 P for GE Renewable Energy's Haliade-X 12 MW wind turbine. Below, learn about how we manufacture, transport and test ultra-long blades.
ULTRA-LONG BLADES
Production
A look behind the scenes, as we built the world's longest wind turbine blade in 2016.
ULTRA-LONG BLADES
Transportation
In July 2016 the world's longest blade, at 88.4 meters, completed its first journey – perhaps as the largest cargo ever transported on Danish roads.
ULTRA-LONG BLADES
Testing
Watch this amazing look behind the scenes as our engineers tested the LM 88.4 P, to prove it could withstand 25 years of operation offshore.