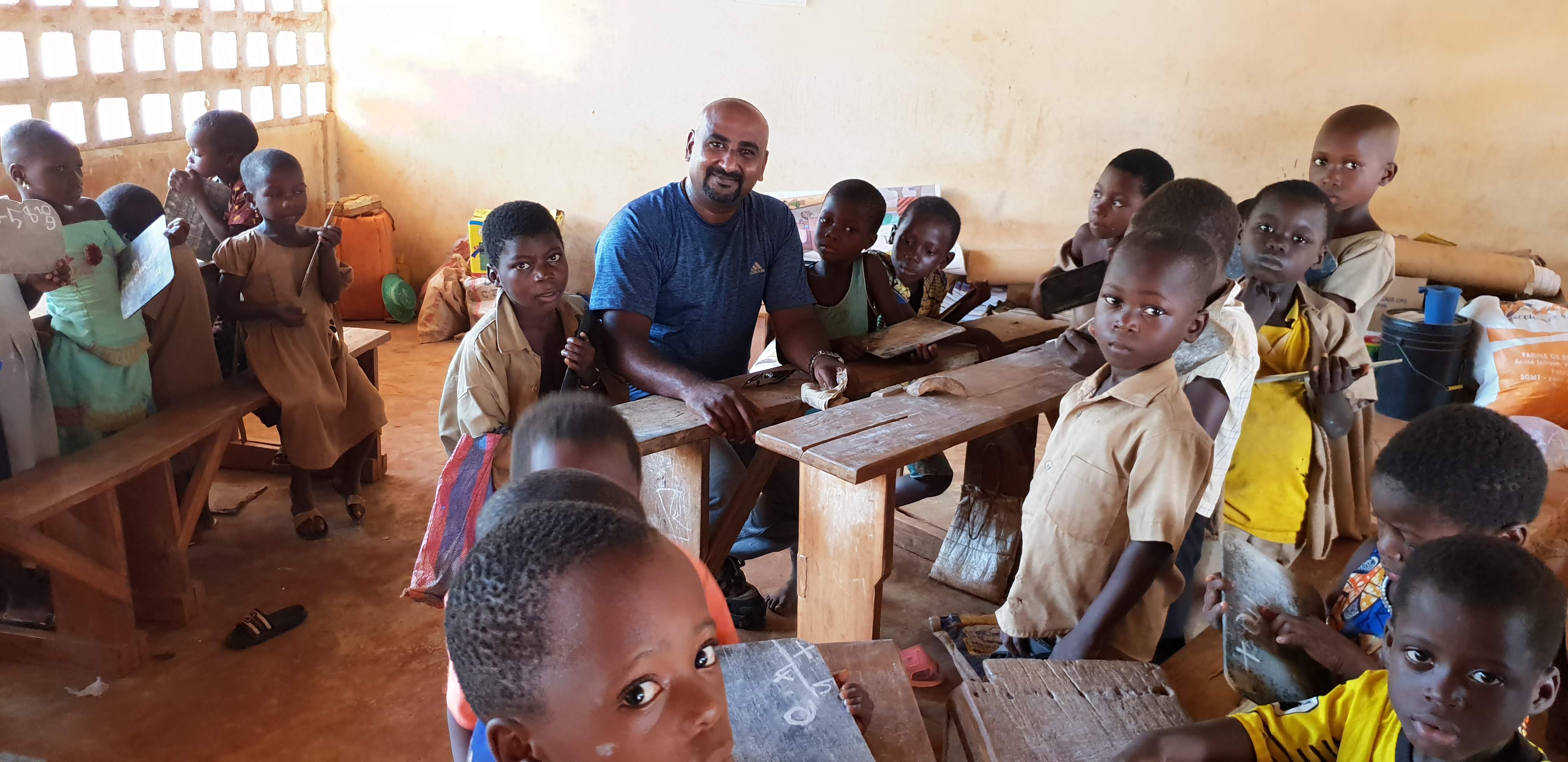 Finding Life's Purpose in Service: Translating Passion Towards Work and People Through Volunteering
An official trip to a tribal part of Ethiopia, Africa, transformed Girishkumar, better known as Girish, into who he is today as a person and a volunteer, growing from multiple experiences, specifically this one seeing people carry a bucket of water or a sack of grain for distances, content and overjoyed with modest daily pleasures of life.  His rich journey as a volunteer started simply from wanting to serve and support yet touching innumerable lives across the globe for over a decade, making opportunities accessible to the needy, and supporting causes covering range of human or animal need. His initiatives have benefited countless through various action-based drives or distributing essentials, or supporting children with hearing inability enjoy various experiences, to name a few.
His identity premised on the purpose to grow and provide others the avenues to grow, Girish regards "GE as a second home, closest to his heart". He traces his GE journey decades back to 2002 from starting out as a Lab Technical Support Staff to currently as a Service Automation Engineer with LM Wind Power. His story is nothing short of inspiring as he transformed himself, evolving from a blue-collar job to his current white-collar role.
"I started at GE with humble beginnings in the departments of water wastage treatment, fire detection/suppression and other repair works including installations, and it became my dream to graduate from the uniform and beyond my 5-year contract. This made me pursue a diploma, travelling 47 kilometers to attend an evening college, while working". He fondly recollects gaining not only professional skills but also the will to give back to the society from his father, who worked as a Technical Specialist.
The drive to achieve more and give back to the company, along with his knack for curiosity in finding newer and better developments – made Girish move onto more technical roles from DG Maintenance to GE Plastics. He found himself at the GRC lab once, suggesting a cost and material effective solution to a problem that the department was facing, landing him an opportunity to become a part of their team for 9 months in charge of 4 equipment, further progressing to 274+ equipment and supporting 3 labs.
While donning many hats at GE and now at LM Wind Power, Girish credits his managers' support and his eye for problem solving the mantra for his successful 15 years with the company, "people around me have held my hands and picked me up, whenever I needed the help, pushing me to achieve higher, sensing in me the potential and will to deliver more".
His story is nothing short of inspirational and his journey indicative of relentless pursuit of growth and giving. Calling himself "a product of opportunity and trust put in him", he credits his entire life to the culture of the organization. Progressing further into more roles within GE, Girish recounts this one experience working in GE Power Grid, as a milestone for his professional and more so personal life, propelling him into serious volunteering. He was part of GE Global Research team to develop and install a solar diesel hybrid system as part of the rural electrification project in Africa. The first prototype was installed in Ethiopia, powering 2 hospitals and health care centers. He describes the day of power installation as gratifying and his trip to Africa as life transforming; truly understanding the value of smallest things taken for granted, returning to a simpler lifestyle and to humble beginnings, while wanting to better other people's lives.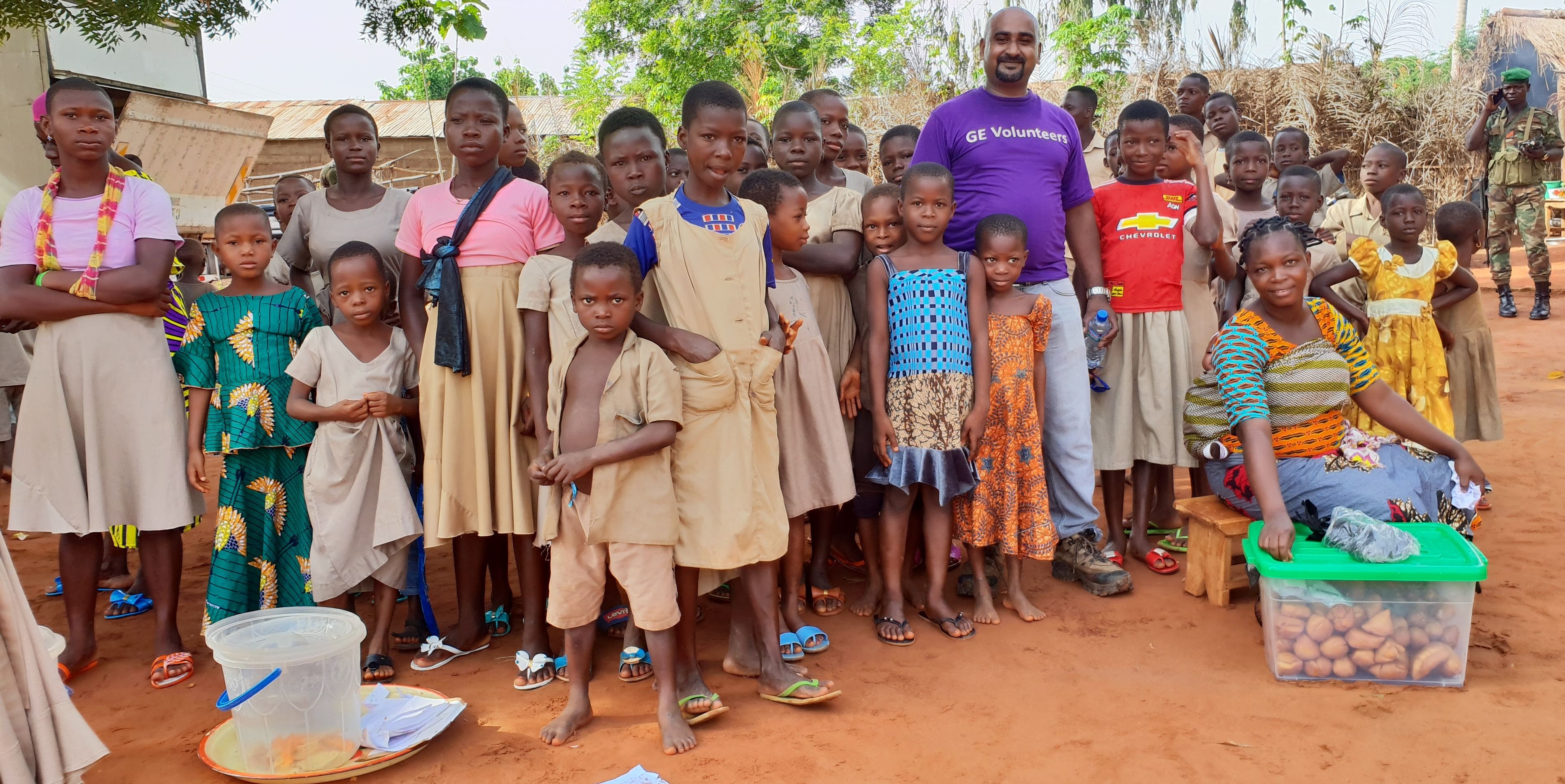 Holding such experiences shared with tribal communities close to his heart, shifted his perspective on life. Now as a part of the LM Service team, he has been taking his commitment towards volunteering to new levels of humanitarianism, wherein the people and organizations he supports have become an extended family to him – be it his personal affiliation with the SKID school for children with hearing impairment or through his various contributions in beach clean, plantation and painting drives; back to school events; numerous ration kits' distributions; and so many more.
His support knows no bounds or limits, and he feels almost embarrassed when his contributions are spoken about, preferring to just provide without praise. Known to be as the first person contact in GE Volunteers (GEV) India, Girish lives the inclusive aspect of the company daily, including everyone he comes across into his orbit to support or help; while for the people who come across him, he radiates an energy of positivity and growth.
His volunteerism is an activism on its own, which he extends far beyond GEV, networking through a Facebook group called 'Kai Jodisi', meaning 'Join Hands' in Kannada; wherein he remains satisfied being a back-end support to various causes like blood donation camps, getting support like sponsors for a widowed single mother for her sons' education, cooking and distributing grocery during the first Covid lockdown for 21 days, fundraising for the Home for the Aged, etc.
A wide spectrum of people constitute his support system, which is mostly centered around the needy who need more visibility and accessibility which Girish provides or gets for them, "Aged and children are the sections of society who sometimes do not have the platform to speak for their rights or availability to better resources". He makes volunteering not only seem easy but a fruitful and gratifying job – travelling to unknown and secluded places giving support when people need it the most, like during flood relief at a hill station in Karnataka, India.
He keeps exploring himself through others, able to extract value for them, and finding the profound in simple – like when a group of Ethiopian women celebrating lights bulbs brought tears to his eyes, "These are few of many moments that make my volunteering and work with GE and LMWP more than worthwhile".
Girish has been awarded as the Best Volunteer across the India region twice, nominated by the GE Volunteer's Council, Bangalore team; including one for his diligent efforts with the children from the Sheila Kothavala Institute for the Deaf (SKID), a GEV school since a decade, supporting them to compete at National level Science competition at a school in Chennai, India. The students presented on waste segregation, pest control and animal rescue in sign language, earning them a standing ovation and a win. It is one of his best moments with them, including other activities like visits to museums and celebrating special days. "My drive to deliver is part of my adding value to other's lives – to give and grow through the process of serving. People tell me that I represent GEV, I say that I am honored and proud to be a volunteer! Living my life for others has given a purpose to my life, teaching me grace, and providing fulfillment at the same time."
As an #LMGameChangers, Girish's legacy of service which has been handed down by his family, drives him to better both the circumstances of others and aid them in transforming themselves, a gift that very few can claim to have, yet his motive for life is to "share as many growth opportunities with others as he's been fortunate to have at GE and LM".