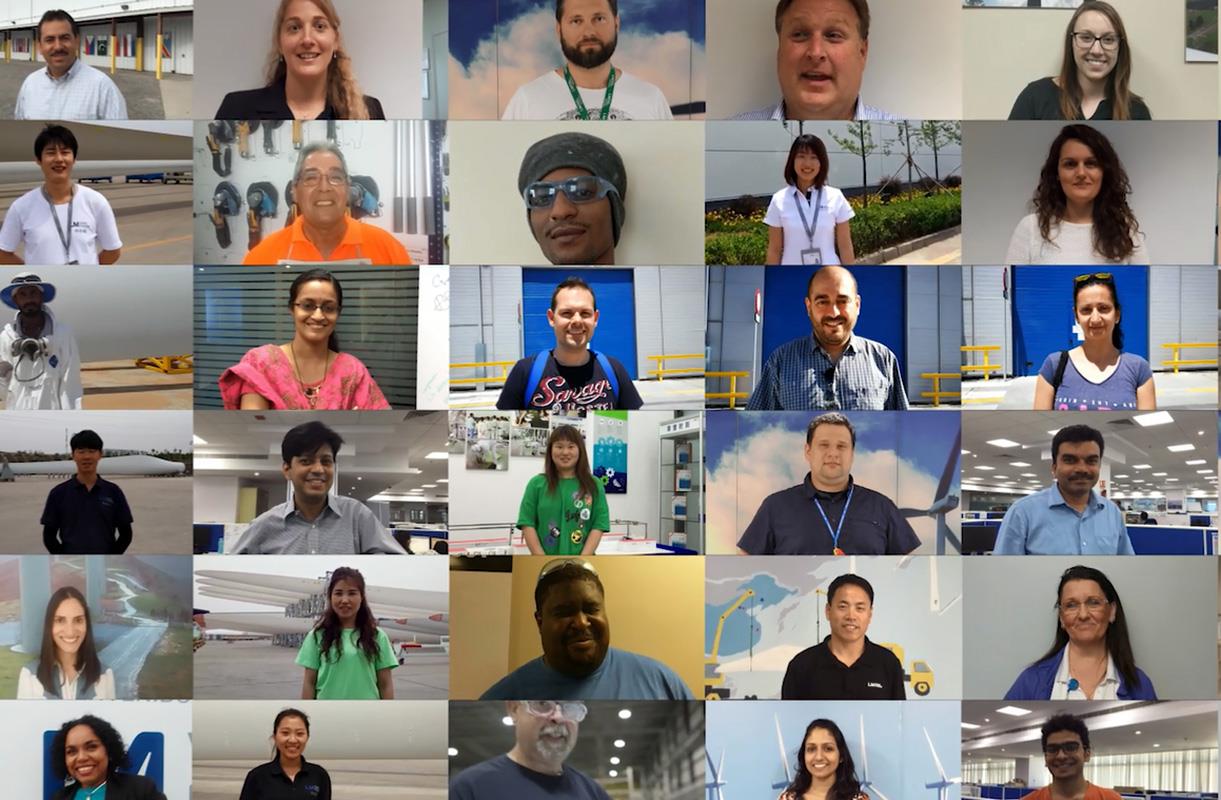 Building people before blades
Experience a day in the lives of three colleagues in ponferrada, spain, who have been impacted by their center of excellence: a new employee, a trainer and an experienced team leader.
Passion and drive.

Those are words you hear again and again at LM Wind Power's 15 Center of Excellence sites around the globe.

You hear them from management, who instill our core beliefs from Day One of training. And you hear them from the trainees, who are striving to learn to safely build wind turbine blades — which can be as large as 88 meters in length — for a company that won't tolerate anything less than excellence.

"At LM Wind Power, people are among our most valuable assets," explained Carmen Maria Alfonso Sanchez, Senior Manager, Global Training and Development. "At our Centers of Excellence, we give importance to the employees' welfare from the very first day. We talk about beliefs.  And quality. And how to work together. Everything is reinforced from Day One, so the people working here know they mean a lot to this company from the very beginning."

At the centers, participants receive theoretical training, where company beliefs are reinforced and sustainable thinking is instilled throughout the process. Practical training allows trainees to take part in the blade manufacturing from start to finish. "This way they learn everything in the process before they become specialized in the particular skill that best fits them," Carmen said.

Welcome to your first day at LM Wind Power
Ana Gabriela Eremia (Gabi), an operator at the Ponferrada plant, clearly remembers how she felt entering our Center of Excellence for the first time. "The first day, I was really nervous. You are excited, nervous, afraid. You wonder whether you have the right equipment, the gloves, the helmets, everything," Gabi said.

Starting this first day on the job, Gabi and the other new colleagues were met by a team of technical professionals and mentors, who provided support throughout the training program. Explained Carlos Corral Ruiz, a trainer at the Ponferrada plant, "When the trainees arrive they wonder, 'What's this? Where am I?'  And then they meet people like us, who show them the company in an open way, and we explain to them absolutely everything. It's important that all employees know about safety, because safety comes first. The most important thing is that an employee works safely and returns home safe."

According to Gabi, this training and mentorship both increased her confidence and enabled her to build high quality blades, from the beginning. "When it came time to start working, I did not feel lost, and I was not afraid, because I already knew what I had to do," she said.

Training excellence: Our people and their stories
The Centers of Excellence impact colleagues in various stages of their career – whether someone is a new employee, a trainer or even an experienced team leader.

Watch the three short videos below to meet Gabi, Carlos and Luis from Ponferrada and experience a day in their lives at LM Wind Power. And, stay tuned over the coming weeks for more stories in this Training Excellence series, featuring the many ways we build people around the world, before blades.
TRAINING EXCELLENCE
Gabi's story
An operator and new team member in Ponferrada, Spain.
TRAINING EXCELLENCE
Carlos' story
A trainer at our Ponferrada Center of Excellence.
TRAINING EXCELLENCE
Luis' story
An experienced team leader in the Ponferrada plant.