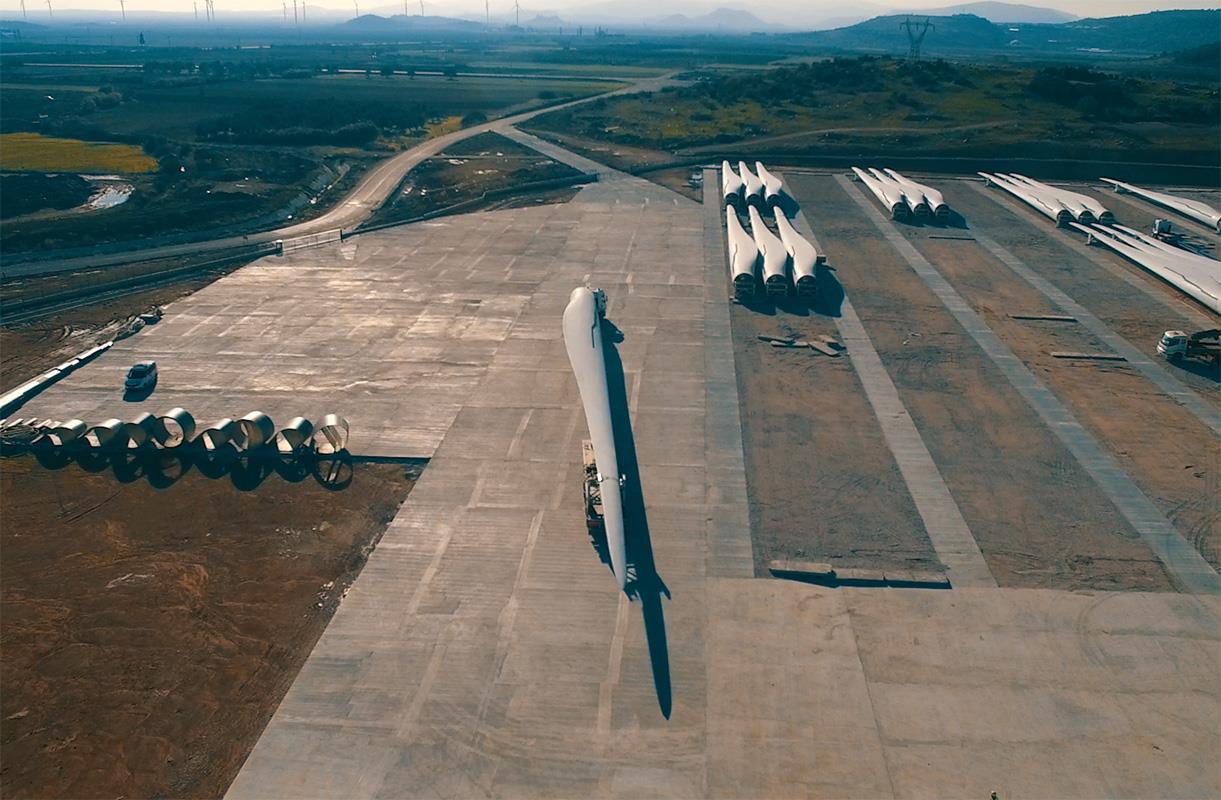 Watch our first blades from Bergama disappear into the sunset!
Less than six months after celebrating the factory's inauguration, our team in bergama, turkey successfully transported its first blades. Watch the spectacular drone view of these 63.7 meter blades leaving the factory, and find out where they are headed next.
Our first wind turbine blades manufactured in Turkey – at 63.7 meters in length – have started their journey from the Bergama plant, to Australia!

The first blades left the Bergama factory in December 2017 and traveled 100 kilometers (km) by road to the Izmir-Alsancak Port. In total, the Bergama team will ship 99 blades to their final destination, more than 14000 km away.

Watch the spectacular drone view of the Bergama plant's first blades leaving the factory!

The 63+ meter blades will be commissioned on GE's 3.43 MW wind turbines at the Bodangora Wind Farm, a 113.2 MW wind site developed by Infigen Energy and GE in South East Australia. GE's turbines, equipped with these LM Wind Power blades, are set to capture the abundant winds in New South Wales.

The Bergama plant celebrated the start of production in July 2017. Ever since, the team has been hard at work to train every new employee to produce blades up to our global quality standards.

"We're very proud of our first shipment, as it demonstrates how far we have come in producing blades both theoretically and physically," said Ozan Mamay, Bergama Plant Director. "Teamwork is the key to our success; the whole LM family contributed to the training and mentoring of our team. Our ambition is to create a learning organization going forward and respond to challenges together.

Now with more than 370 employees, the Bergama facility is our first new blade manufacturing site since we became a GE Renewable Energy business earlier this year. It represents a $50 million commitment to Turkey, creating skilled, technical jobs for the region, which range from manufacturing operations, to technical engineering, services, administration and ancillary support.

In addition to providing blades to wind projects outside of Turkey, the factory will address the needs of the fast-growing Turkish wind industry. Since 2010, annual new wind installations have continued to increase and sustained growth is predicted with a target of 20 GW by 2023.
NEWS FROM LM PLACES
Bergama's first blades hit the road
Watch the spectacular drone view of our 63.7 meter blades leaving the Bergama, Turkey factory!