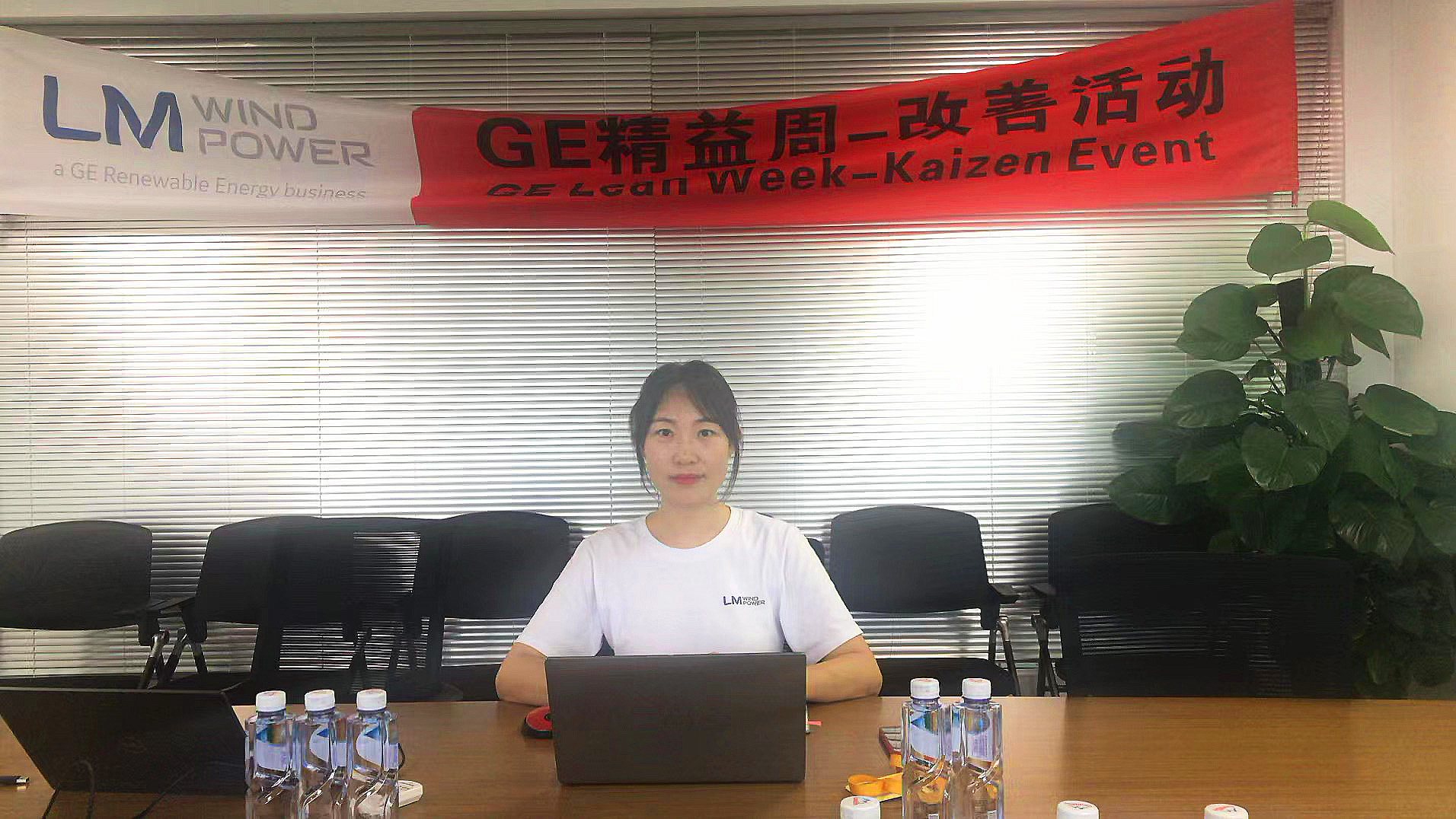 Blowing with the Wind – Two Decades and Counting, Ma Kun's Journey with LM Wind Power
Ma Kun's first choice as place of work was always LM Wind Power, her eyes set on an organization that targets growing together with its people. She joined the company in 2001 for her first job as a young 20-year-old. Now 2 decades later and still growing with the organization, her wind ride has taken her to heights in China.
Learning and growing have been the strongest pillars in Ma Kun's journey. Starting humbly as an operator in 2001, working in shifts to learn the blade manufacturing process, to becoming a Senior Supervisor in 2021, she credits this progress in her career to her earliest colleagues, who lent her support and care, helping her gain confidence and strong footing in her job profile. 
The global expansion of wind industry and the rapid development of LM Wind Power's business in China, brought about many internal opportunities for Ma Kun to rise to the occasion for the cause of wind. Her journey chronicled many important roles and contributions in the company - from being an administrator, the head of the material team, a production planner, a warehouse supervisor in Tianjin plant, to part of a High Potential Talent Development Project in China. Transitioning and transforming with the various hats she has donned over the years, delivering on roles that have demanded her persistent and dedicated efforts, she still remarks on how "everything is dreamlike, which would seem impossible 20 years ago". 
Evolving from the role of a Senior Planning Specialist, joining the Baodi plant in 2016, she moved onto the current more challenging one of a Senior Warehouse & Yard Supervisor at Fujian. 
The employee centric approach and having access to equal opportunities for all to grow at LM Wind Power helped her develop both professionally and personally. The emphasis given to providing leadership training and roles to women fostering their goals and growth accelerated her will to succeed at every stage of her life. Ma Kun considers her "life blessed", with balancing work and life that came hand in hand, with roles to grow in, both personal and at work, from being single to married, and from a couple to a family of three. She impresses on the contribution of Inclusion, Diversity and Equality element in LM Wind Power's culture which "encourages the development of female employees and provides a powerful platform". Also frequently remembering and crediting seniors for her career advancement, Ma Kun mentions one of her interactions with a regional Senior HR director, that made her realize that "women can hold up half the sky". 
Her empowerment in the company is one of the many examples of women who are now a part of both shopfloor and office. She mentions how "LM Wind Power also organizes activities that are beneficial to women's physical and mental development, such as Pink Run, Goddess Festival, and establishment of the nursery room". Working to break through gender bias and stereotypes around women belonging in the warehouse, Ma Kun recalls how people told her that her supervisor role would be "hard to manage…not just because of the tough handling of the materials, but also the management of my opposite gendered subordinates". 
Yet her resolve to succeed, belief in herself, treating this challenge as an opportunity and knowing "how team spirit works" helped her "quickly adjust to the position."  Her mantra for succeeding at leadership roles was to build "trust within the team" and "offer timely and specific appreciation to those who have done good jobs" and opportunities to those who haven't. 
Opting for a transfer to the Fujian plant was one of the most conflicting moments of Ma Kun's professional journey, as it required her to choose between family and career. To set an example for her child on "taking chances" and how "sacrifice sometimes has to be made for bigger contribution", she proceeded despite the long distance of over 1,000 kilometers. She expresses her gratitude towards her family and support from "family members especially my husband and mother-in-law" for having made this transition easier for her. 
Ma Kun faced new challenges at the Fujian plant. From being shorthanded to workflow issues, it was not a smooth transition for her. Yet not letting these deter her, she applied her prior "experience from talent project" onto the "management of the warehouse: set goals, create project team, determine sponsors, clarify milestones and persons in charge, and cyclically follow up the progress of the project, etc." 
All the collective work done by her team "paved up the solid way for development and production." Having achieved everything that she has, her eyes are always set on doing more for the team and the company, believing "that everything will be heading towards good direction. However, …there's still lots to be done." A person with always a helping hand, a smiling face, and an optimistic attitude, she knows that "the road ahead is obstacle-packed and long. But…will get through" with persistence. 
Ma Kun feels that she is in her best years now, "being 40" sparks "vigorous growth in life to feel to act either for work or life." She feels her experience and trainings along with her being in her prime enables her "to break gender barriers, maintain continuous state of studying, and seize opportunities firmly." 
Ma Kun truly embodies being an  #LMGameChangers, taking the wind ride while chasing her dreams. She leads through example, breaks biases and barriers, and personifies the change we want to see everywhere. Her story with LM Wind Power proves how time flies fast and well when you are riding with the wind!